Becoming a Speaker to Grow Your Business
Isn't Scary or Hard
My System Will Prove It to You
Too many times, I've watched small business owners and entrepreneurs struggling to take their business to the next level. Entrepreneurs, like you, who have a big message to share with the world and know they could grow their business by adding speaking to their marketing mix, but are overwhelmed, not even sure where to begin.
I have good news. The struggle stops here!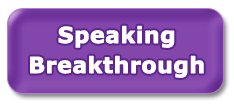 If you are eager to attract more clients and or you're ready to overcome your speaking fears once and for all, it's time to discover a new way of doing things. It is time for a breakthrough.
For the past two decades, I've worked with everyone from business owners and executives to coaches and authors to create speaking breakthroughs. Through this time, it has become apparent that mastering speaking skills doesn't need to be hard. When commanding a room, it comes down to connecting with the audience and simply being yourself.
You might be thinking, "OK, I get that, but I'm still struggling." What is standing in your way of success? Stated simply — fear. Fear can take many forms and is often what holds us back from new heights of success. Fear of standing in front of an audience. Fear of not even knowing where to begin.
There is a solution.
It is possible to move beyond your fears and limiting beliefs. With my Speaking Breakthrough System you receive the live coaching, practical tools, practice and support you need to eliminate the frustration, struggle and fear — setting you up for levels of success you never thought possible.
Are you ready for your breakthrough? If NOW is the time to quickly move through your barriers while capitalizing on your unique skills and talents click the button below to begin your journey to speaking breakthroughs.
A different outcome is waiting for you.